Research and innovation, writing, speaking, consulting, policy direction and advocacy.
Our think tank is a research institute that conducts innovative research and communication of findings via various media on issues pertaining to the intersection of international education, culture and faith. The goal is to provide thought leadership and foster evidence-based decision-making and policy direction by leaders of faith communities, media organizations, educational establishments, businesses, social movements and other interest groups, governments and multilateral organizations. The think tank publishes articles, studies and even draft policies and legislation on these particular matters.  Kwiverr's think tank is an effort of in-house research fellows and external collaborators.
International Director – Dr. Yaw Perbi
Dr. Yaw Perbi is a testament to what Kwiverr stands for, being a diasporic person himself who has accelerated missional community and leadership formation on all continents. He has been a tentmaking medical doctor, United Nations peacekeeper, executive coach, financial consultant, and was for four years, pastor of an English-speaking Chinese church in the French city of Montreal, Quebec. Dr. Perbi was president of International Student Ministries Canada for eight years before resigning to found and direct Kwiverr. His 20 books include Amazon bestselling Thinking Outside the Window and the ground-breaking Africa to the Rest. Yaw is a Lausanne Movement catalyst and global CEO of The HuD Group, which has a holistic leadership development footprint in sixty countries on all continents. He serves on the international leadership team of Send Africa Network and chairs the evolving Africa Centre for Mission Mobilization and Research. Dr. Perbi is a fellow of the Africa Leadership Initiative and the Aspen Global Leaders Network. He is currently pursuing another doctorate, in global leadership, at Fuller Theological Seminary, where he also obtained his M.A. in global leadership. Yaw is married to his economist-entrepreneur wife, Anyele, and together they have seven splendid children. They make their home between Accra, Ghana and Montreal, Canada.
Senior Research Fellow - Dr. Ria Llanto Martin
Dr. Ria Llanto Martin, received her Doctorate in Intercultural Studies, as an international student, from Western Seminary, Portland, OR in December 2021. She was born and raised in the Philippines until she recognized God's call in her life to move to Seattle, WA, in 2012 to pioneer an Intercultural Campus Ministry with a local church. This became a seed to her dissertation. Her fifteen years of college ministry experiences from the Philippines, Asia, and the US have afforded her significant intercultural leadership and mentorship opportunities, intercultural discipleship, intercultural community engagements, and intercultural staff/team management and development. Her dissertation topic, From the Philippines to the Global North: A Participatory Action Research on Intercultural Campus Ministry, explored some intercultural challenges first-generation Filipino missionaries experience in missions. She expounded on the concept of Intercultural Campus Ministry, an integration of local and international students in one local campus ministry, as a diaspora missions practice towards becoming an intercultural church. She believes in a strong partnership between the Majority World and the West, empowering international students to engage in missions when they return home, while being fully supported spiritually and relationally, by their former host cities. She and her husband backpacked the Olympic Peninsula for four days and three nights, covering over 70 miles, it was epic! They have been married for six years. 
Senior Research Fellow - Dr. Chaoyang Peng
Dr. Chaoyang Peng hails from China. He came to know Christ as an international student at Princeton University in 1995. After graduation, he worked at the United Nations Development Programme in New York and the World Bank in Washington DC. He answered God's call in 2005, and entered the China Evangelical Seminary North America and later Gordon Conwell Theological Seminary in preparation for full time vocational ministry. He is now a campus minister with AFC, has been serving at Duke University, the University of North Carolina at Chapel Hill, and North Carolina State University in the Research Triangle Area of North Carolina. He has pioneered several campus fellowships in North America and returnee missional community in China. Chapel Hill Chinese Mission Church is a plant of his. Dr. Peng's ministry focuses on a 3-step strategy: reaching students, building leaders, and sending returnees.
Research Associate - Estera Pirosca Escobar
Estera Pirosca Escobar is a Romanian with a heart for the world since becoming an international student for both her undergraduate and graduate studies in the United States. She was for a number of years National Field Director for International Friendships, Inc. (IFI). Estera and is currently pursuing doctoral studies in intercultural education at Western Seminary with the revered diaspora missiologist Prof. Enoch Wan. Estera is a dynamic leader who combines dedication, attention to detail, and strong research methodologies, with empathy and cross-cultural sensitivity, to design and implement solutions that create value.  She and her Chilean husband, Francisco, live in Columbus, Ohio with their lovely daughter.
Research Associate - Christabel Boro
Christabel Boro, a Kenyan resident in Nairobi, is currently an Associate at The Leadership Group Limited. She provides clientele with potent facts and analysis that outline solutions and drive change. Prior to joining The Leadership Group, she worked as a finance intern at the Kenya Revenue Authority and at Competition Authority of Kenya where she got exposure to Mergers & Acquisitions, Consumer Protection and Enforcement & Compliance focus areas all under the Technical Department. Christabel holds a degree in Economics and Finance from Kenyatta University, Kenya.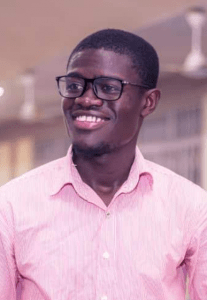 Michael Osei is a graduate student (MPhil) at the Kwame Nkrumah University of Science & Technology (KNUST) in Kumasi, Ghana. He is a young CEO of his own healthy fruit juice company named Pristine Health Juice. Michael was born in Côte d'Ivoire and had his early formative years in Ghana. He is driven by such a strong desire to influence those in his circles with biblical perspectives and principles such that he has been reaching out to his colleagues since his primary and secondary school days and still does. Mr. Osei has worked with the Scripture Union, Pentecost Students and Associates (PENSA), The HuD Group and the Evangelism Committee of the Student Christian Council (SCC) of his university to impact fellow students. In his first year at KNUST, he became the president of a non-denominational group called Youth With A Vision, affording him numerous opportunities to address pertinent issues of young people. He was later elected as President of Necessity Network Outreach, where he was actively involved in evangelism on campus and in the surrounding communities. He writes for the Church of Pentecost's worldwide devotional guide and has been interning at Kwiverr, involved in the thick and thin of research and training in disciple making movements. He yearns for God to send him forth into the world.